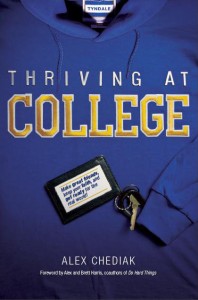 Hats off to Bob Hayton for taking the time to review Thriving at College. An excerpt:
Thriving at College covers the whole gamut of the college experience. It truly has something for everyone. Study tips, schedules, eating advice, how to deal with your parents — all of this and more are addressed. Yet the book isn't very long, and doesn't have to be read in order. The chapter contents are clearly enough indicated that it can be used as a manual, to be referenced when needed. Discussion questions at the end of each chapter allow for its use as a book that parents read along with their children, or for use as a small group study in the summer before college.

I have no hesitation in recommending Thriving at College for any high school graduate. It would make a great gift for a graduate you may know.
Read the whole thing.
Like Bob says, the book doesn't necessarily have to be read in order. Each chapter can stand alone. If you'd like to know more about the structure of the book, and how it can be used, see this post where I specifically address the length of the book.