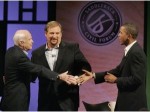 I was able to attend the 2008 Presidential Forum hosted by Rick Warren at Saddleback Church in Orange County, CA. So I was a bit bummed to hear that another one was in the works for this year, but has been cancelled.
The Orange County Register reports:
Warren pulled the plug on this year's forum, explaining that the current negative campaign is opposite to what the church's civil forum is about, even as plans had been ramping up to coordinate schedules, secure the area and get traffic control in check for a forum of this size. Planning had begun in March.
This same article has a short exchange with Pastor Warren. Here's their first interaction:
Q. You said you canceled the presidential civil forum because of the negativity and a larger issue. What is that?
WARREN: It is the crumbling of our constitution's first guaranteed freedom: the freedom of religion. This issue is more significant and has far greater implications for America's future. People have forgotten that America was founded by people who came here to escape religious persecution. Freedom of religion is the first freedom mentioned in the Bill of Rights – before freedom of speech, freedom of the press, freedom to assemble, and every other freedom.
And yet today, at the city, the state, and the federal levels, government bureaucrats are daily trying to limit that freedom, impose restrictions, and stifle expressions of faith on campuses, in hospitals, and in businesses. There are widespread attempts to redefine the First Amendment to simply mean "You are free to believe anything at your place of worship but you are not free to practice your conscience elsewhere."
The constitution doesn't just guarantee your freedom to worship; it guarantees you freedom from government intervention in you daily living out what you believe. That's why we've chosen to host a civil forum on religious freedom in September instead of the presidential forum. It's a fight for the constitution, not a personality.
Read the whole thing.